Health Initiatives/Programs
In Cavite, medical missions on several occasions in close cooperation with local pharmaceutical giant United Laboratories have been conducted.
Last November 11, 2017 at Sitio Paligawang Matanda Elementary School, Barangay Lantic, in Carmona, 311 patients (213 children and 98 adults) received free consultations by doctors and nurses, blood tests, medicines, grooming kits for children and a separate feeding program. There was also a donation of weighing scale, nebulizer, stethoscope, sphygmomanometer, and other medical equipment to Sitio's Elementary School.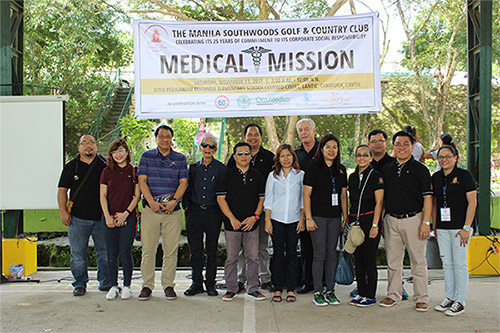 In Baguio, 30-40 U.S. medical professionals including specialist doctors have been brought in on two separate occasions to conduct medical missions in conjunction with the Benguet General Hospital. The highly qualified American medical imports performed various free-of-charge procedures such as harelip and cleft palate corrections. Apart from corrective surgeries, there have thousands of beneficiaries including those who received free check-ups and dispensing of medicines.
MGHC has likewise long supported relief efforts through the Red Cross in times of disaster response whenever, and wherever, calamitous events strike such as in 2009, when Typhoon Ondoy wreaked havoc on Manila and the Visayas region. In the aftermath of the disaster, the Company also solicited and received donations on its premises, which were then packed by the employees themselves before being delivered to officially designated sites.
Company-wide blood drives have been conducted on a periodic basis and donated to/through the Red Cross as well.
Gawad Kalinga, "to give care" in Tagalog is a poverty alleviation (and therefore health-enhancing) project. Company employees have participated in house-building projects, in some cases helping in their actual constructions.
Environmental Initiatives
In Baguio, MGHC's environmental CSR thrusts are represented in the greenest possible way by the more than 200,000 pine trees the company has planted in and around the summer capital over the past three decades. The positive influence on the propagation of birds and other fauna, as well as the benefits of carbon dioxide absorption and conversion into breathable air have been virtually immeasurable.
Likewise in the City of Pines there has been the recently completed fencing of the Busol Watershed Project (an area where essential water is collected), a major Mayoral project to which the company in cooperation and conjunction with the PhilAm Foundation as well as the Baguio Country Club contributed millions of pesos.
In the nation's metropolis-capital, the MRT-3 became the company's de facto flagship when the mass transit system began full operations in June of 2000. Its MetroStar Express trains carrying more than 600,000 passengers during its peak years are electrically powered and have thus been of incalculable advantage to the environment. Such benefit has been achieved by the MRT-3's supplanting of up to 1,000 fossil-fuelled buses notorious for their toxic emissions severely detrimental to Manila's choke-filled citizenry. The eventual goal is to rid EDSA of 2,000 of the behemoth belchers, exponentially cleansing air that Filipinos breathe.
Educational Initiatives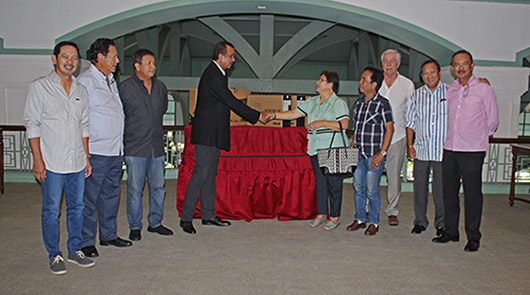 In Cavite computers, classrooms and desks that are perennially lacking because of our burgeoning population have been constructed and/or donated to local students and schools throughout the years. The latest: on November 15, 2017, Php 500,000 worth of equipment (10 computer sets to each school) were donated to Cabilang Baybay Elementary School and Carmona National High School.
In a commitment to support the development of the Filipino youth and in the hope that the Philippines can someday see a Filipino competing against world-class players, the company was a co-presenter for the sub-events of the 33rd PCA Open Tennis Championships which ran from Nov. 1 to Nov. 23, 2014.
Combining the health and educational fronts, the Autism Hearts Philippines (Foundation) has received substantial financial donations translating to dozens of students who have directly benefited to date. In 2017 P250,000 was donated directly to the Foundation.
Also in 2017, Kanlungan ni Maria, a home for the poor and displaced elderly in Antipolo, received a Yuletide seasonal visit that brought financial assistance and gifts for assistance and to the delight of its residents.
Dynamism is the Company's CSR Future
Going forward the company looks not only to maintain its present slate of CSR activities, but to proactively take up new opportunities as they present themselves.